By Tal Zemer, Esq. and Angelina Padilla
Don't get too excited, neither the New York football team nor the San Francisco baseball team are coming to the country's sunny sports mecca. We are talking about tech giants – the future of our global economy. The secret that Snap, Inc. and Goop have known for years is what drives the millennial: a modern and relaxed workplace encompassing a southern California lifestyle. Compared to many other geographics, Los Angeles generates a high-quality next-gen workforce with a superior marketing and tech-based background. They are all coming, but where will they live?
The Giants are Moving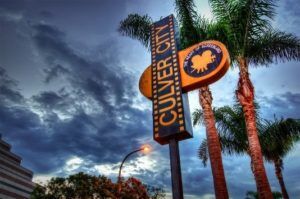 Quickly jumping into this newfound techy palm-lined oasis over the last two years are companies like Facebook, Apple, Amazon, Netflix, and Google—also known as FAANG— who have all made major strides to collectively lay claim to at least 3.35 million square feet of office space and campus in Los Angeles. Additionally, by the year 2022, a six-mile radius will be the new home of tech and entertainment giants Amazon, Google, Apple, and HBO. At the center of this radius is Culver City.
Why Culver City? Close enough to the already sought after cities of Hollywood and Beverly Hills while simultaneously maintaining a short distance from the beach and the entertainment industry housing Sony and the historic Culver Studios, Culver City may be the last bastion of a great Los Angeles hip and modern epicenter left in the city. Notwithstanding the former, Culver City is the future of the foodtech trend, the emerging industry at the nexus of food and technology – one that's expected to grow by around $250 Billion globally by 2022.
A lot of what is now Culver City was once owned by either the major studio systems or the aviator himself, Howard Hughes. Between them, the city was transformed into a checkered map of industrial hangars, sound stages, and WWII manufacturing plants. Those holdings informed how the city was planned, leaving a decent amount of non-residential space in the city's blueprints for larger offices — and growing businesses.
Apple staked a claim in Culver City, where the company has leased an entire 128,000 square foot building at Lincoln Property Co.'s 8777 Washington Blvd. project under construction now near the city's Expo Line station. It already leases 85,500 square feet in Culver City, in a building near the Expo Line's La Cienega station. It plans to add over 1000 jobs by 2022 and already employs 6,200 in the city.
In April 2019, it became official that HBO is joining Apple and Amazon in setting up shop in Culver City. HBO is relocating its headquarters from Santa Monica Ivy Station in Culver City and will occupy all 240,000 square feet of office space at the 5.2-acre megaproject, using the building as its new corporate headquarters. Rising from the site of a former park-and-ride lot next to the Culver City light rail stop, Ivy Station will also include 200 apartments, 50,000 square feet of restaurant and retail space, and a 148-room hotel. Construction on the project, which is being developed by Lowe Enterprises and Rockwood Capital is set to wrap up next year, with HBO arriving in 2021.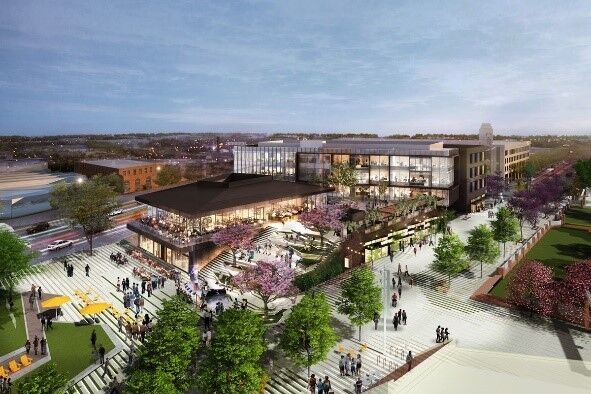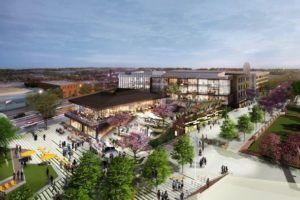 Just a few blocks away, Amazon is moving into—and expanding—the historic Culver Studios campus. The company's film and television division will also take up space in the new Culver Steps development across the street. Amazon has leased 530,000 square feet at the Hackman Capital-owned Culver Studios, scheduled for completion in 2021. Amazon leased an additional 75,000 square feet at Hackman Capital's nearby Culver Steps development, which is expected to open later this year.
In addition, gaming company Scopely is also expanding its headquarters in Culver City. These influential tech and media companies join Sony Pictures, housed down the street for the last three decades on the former MGM backlot.
Just down the road, Google signed a long-term lease believed to be worth $800M with the joint venture of Hudson Pacific Properties and Macerich to occupy the entire Westside Pavilion shopping center, which is being revamped to creative office headquarters. Before it signed onto the Westside Pavilion in Rancho Park, on LA's Westside, Google had just moved employees into Playa Vista's Spruce Goose hangar. The hangar is about four times the size of Frank Gehry's Binoculars building in Venice, where it has held offices since 2011.
Just a few blocks from the Spruce Goose, Facebook is reportedly leasing 260,000 square feet in The Brickyard, a stylish new complex in Playa Vista.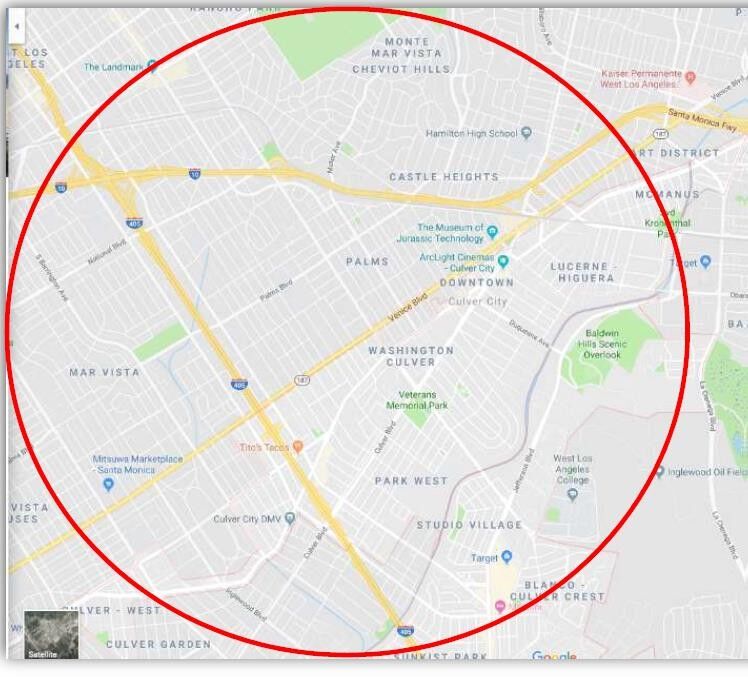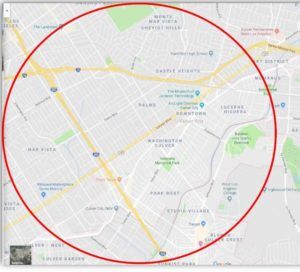 Overall approximately 10,000 new jobs are going to be brought into this small radius with these giant tech companies. With so many new jobs coming to the Los Angeles area, renovation and housing needs are going to skyrocket.
Where will everyone live?
The question remains, where will everyone who works or will work at these tech giants live? Well, Culver City boasts easy access to transit lines heading north, east, west, and south, making it an attractive place for companies who want to draw talent from all corners of the city. Also, neighboring communities such as Palms, Mar Vista, Playa Vista and West Los Angeles all encompass many thousands of 1950-1980s built multifamily homes ready to be occupied…but at what price?? And will these new techies move into old buildings? Do they have a choice?
According to the Southern California Association of Governments (SCAG) Profile of Culver City, Residential production permits issued per 1,000 residents is almost double than that of the rest of Los Angeles County. But for multifamily, it is only about 25% of the rest of the county. This means that the older multifamily buildings are going to be one of the limited options for mass housing. Overall in Culver City, there are 8,854 multifamily properties (consisting of 2+ units), only 2 % more than the existing single-family housing type. 92% of the multifamily housing in Culver City and adjacent areas were built in 1989 or prior, and 85% of them prior to 1979.
Between 2000 and 2018 the median household income in Culver City increased by almost $35,000 and homeownership rates decreased while the share of renters increased. Overall, demand is very high (by those of significant yearly income), with a very limited supply.
Moreover, for Los Angeles residents, average travel time to work in 2018 has decreased by 10% from less than a decade prior. Which means people want less of commute. They want to live closer to work and work-life balance is greater.
That continues to leave the question, where will everyone live? The feeling is that with the tech giants emerging in this area, millennials and their counterparts (Xennials a bit older or Gen Z just entering the workforce) would rather hop on a Lime or Bird scooter or possibly a safer Jump Bike to commute to work. Additionally, with the number of issued California driver's licenses on a continuous decline, and the commute time to employment dropping, more people will choose to live closer to their work and opt for less time on a moving vehicle in favor of a better lifestyle. This proves that it is only a matter of time until Culver City and its surrounding areas will be filling their multifamily vacancies.
Renting
As a result, multifamily owners, asset managers and management companies must be licking their chops, right? Not so fast. Steven Ludwig, CEO of Coastline Real Estate Advisors, an owner and manager of 3000+ multifamily units throughout Southern California and primarily in Los Angeles, states, "New renters are more discriminating now, have higher incomes, and will pay higher rents in preferred markets for aged property properly renovated. There is an expectation of a higher quality of living closer to work, and since these renters will not have automobiles, they are ok spending more on rents." Ludwig, being in the value-add game for over two decades states that rents for a properly renovated unit can be in excess of 50% to almost 100% greater than similar non-renovated units. As in Culver City, where 92% of the multifamily units are 25 years or more older, there are many multifamily properties to reposition and update in order to get in line with the tech driven younger workforce moving into these cities.
New renters are more discriminating now, have higher incomes, and will pay higher rents in preferred markets for aged property properly renovated.
Overall, owners of multi-family buildings are going to need to start renovating their properties to get ready for the surge of incoming population. Though that may mean more business for the construction world, it also means that the cost of living is going to continue to soar. At present, Culver City and the surrounding areas do not have the capacity to satisfy the growing appetite for attractive rental housing. Therefore, multifamily owners are going to need to get started to meet this basic supply-demand economics. If they do not, they will run the risk of losing the increased rental income or the rental altogether as price is not a factor for these individuals when compared to quality and lifestyle.
Better than having the top basketball team, the giant techs are bringing economy, jobs, renovation and excitement to the city of angels. They are driving the improvement of these older and run-down buildings while creating a gentrified and beautified central city with increasingly good food, lifestyle and culture. Let's just make sure the construction can keep up and the tech giants continue to be the leaders in their game!
Tal Zemer is the Chief Operating Officer of Turnaround Solutions LP, a leader in multifamily renovations and quality factory direct building materials branded as TASORO.
Angelina Padilla is the Marketing Assistant for Turnaround Solutions LP.